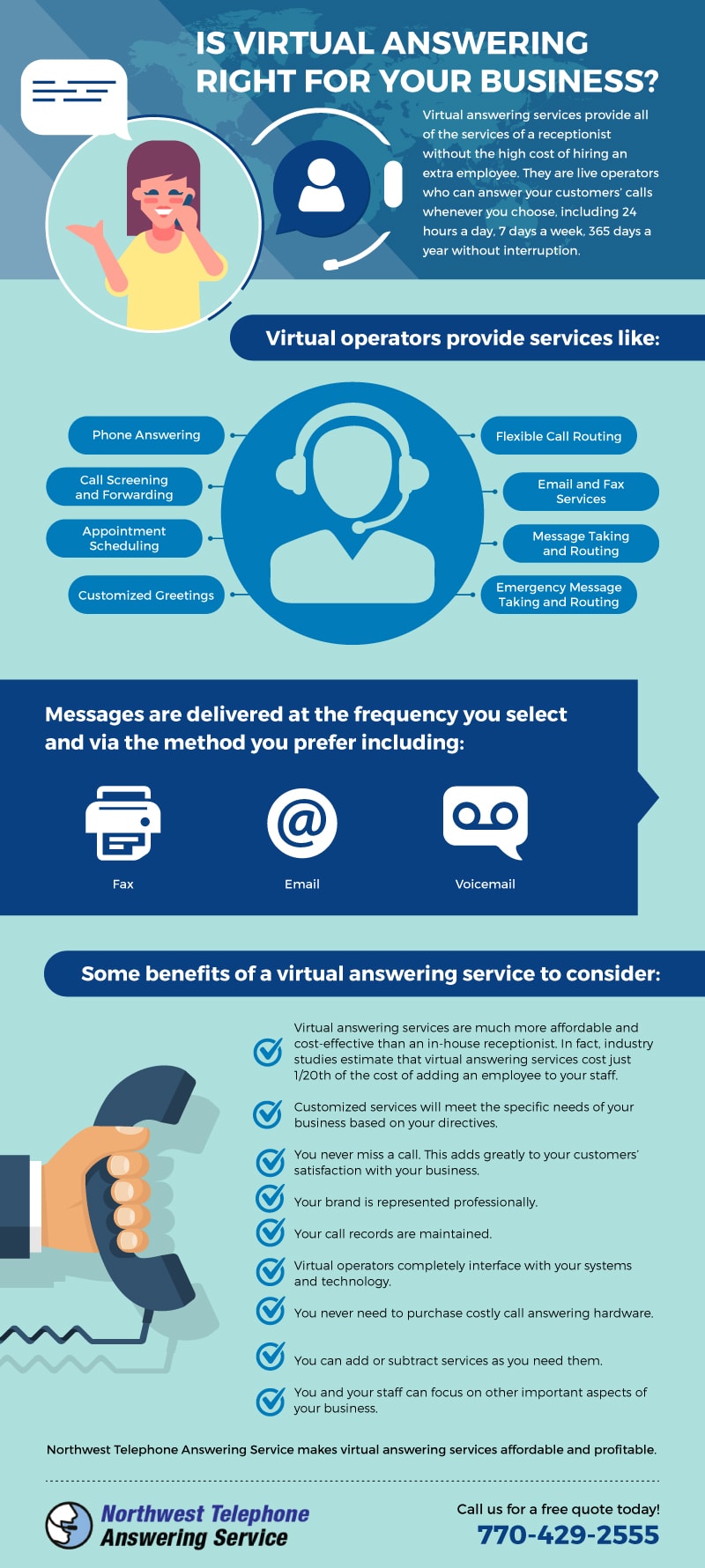 If you have a successful business and want to grow your company's revenue and profit without adding costly reception staff, you could likely benefit from using a virtual answering service.
Virtual Answering Services
Virtual answering services provide all of the services of a receptionist without the high cost of hiring an extra employee. They are live operators who can answer your customers' calls whenever you choose, including 24 hours a day, 7 days a week, 365 days a year without interruption.
These skilled operators who are trained to answer and route your calls according to your specific instructions provide services like:
Phone Answering
Call Screening and Forwarding
Appointment Scheduling
Customized Greetings
Flexible Call Routing
Email and Fax Services
Message Taking and Routing
Emergency Message Taking and Routing
They transfer messages to you and your staff at the frequency you determine works best for you and using whatever technology you prefer including:
Virtual operators are also equipped with the latest technology to meet your needs, including state-of-the-art computers, printers, and scanners so they can work as efficiently as possible.
There are many benefits to having a virtual answering service, including the following:
Virtual answering services are much more affordable and cost-effective than an in-house receptionist. In fact, industry studies estimate that virtual answering services cost just 1/20th of the cost of adding an employee to your staff.
Customized services will meet the specific needs of your business based on your directives.
You never miss a call. This adds greatly to your customers' satisfaction with your business.
Your brand is represented professionally.
Your call records are maintained.
Virtual operators completely interface with your systems and technology.
You never need to purchase costly call answering hardware.
You can add or subtract services as you need them.
You and your staff can focus on other important aspects of your business.
Northwest Telephone Answering Service makes virtual answering services affordable and profitable. Our state-of-the-art systems and technicians will work with you to integrate our business to yours, in a seamless way. Our goal is that when one of your clients calls your company, they will be greeted by someone who works for you and is ready to answer all questions regarding your business. We follow instructions and directives set forth by each client to meet the needs of their industry and business. Furthermore, we will respond to your ever-changing needs on a daily basis.
Contact us now to find out how we can help you grow your business.