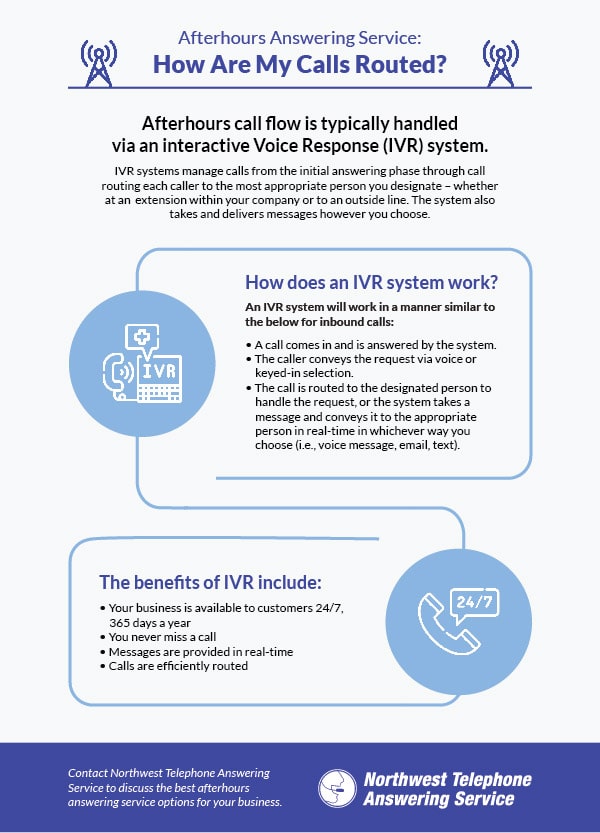 When you work with a professional answering service for call routing, the afterhours call flow is typically handled via an Interactive Voice Response (IVR) system. This is an automated system comprising of telephony equipment, software applications, a database, and supporting infrastructure that your callers interact with by using voice or keyed-in responses that enable calls to be routed to the appropriate place efficiently.
IVR systems manage calls from the initial answering phase through call routing each caller to the most appropriate person you designate – whether at an extension within your company or to an outside line. The system also takes and delivers messages however you choose.
How does an IVR system work?
An IVR system will work in a manner similar to the below for inbound calls:
A call comes in and is answered by the system.
The caller conveys the request via voice or keyed-in selection.
The call is routed to the designated person to handle the request, or the system takes a message and conveys it to the appropriate person in real-time in whichever way you choose (i.e., voice message, email, text).
Some systems also allow for the placement of automated outbound calls. These can be used to:
Schedule appointments
Collect payments
Conduct surveys
Advertise your products and services
The benefits of IVR include:
Your business is available to customers 24/7, 365 days a year
You never miss a call
Messages are provided in real-time
Calls are efficiently routed
Your answering service provider will work with you to set up your customized IVR system with protocols for:
Greeting your callers
Options that your callers select from
Routing options
Prioritizing calls based on the value
Message delivery options
Northwest Telephone Answering Service is a Trusted Resource for IVR
Founded in 1970, Northwest Telephone Answering Service, Inc. is an experienced provider of answering and dispatch services. We offer the latest IVR technologies and reliable, affordable answering services for a variety of business categories. We will readily customize each account so your business receives exactly the services needed. At NWAS, the staff undergoes ongoing training to ensure they are able to manage and route thousands of calls a day so your customers' needs will be addressed quickly and professionally.
Contact Northwest Telephone Answering Service to discuss the best afterhours answering service options for your business.