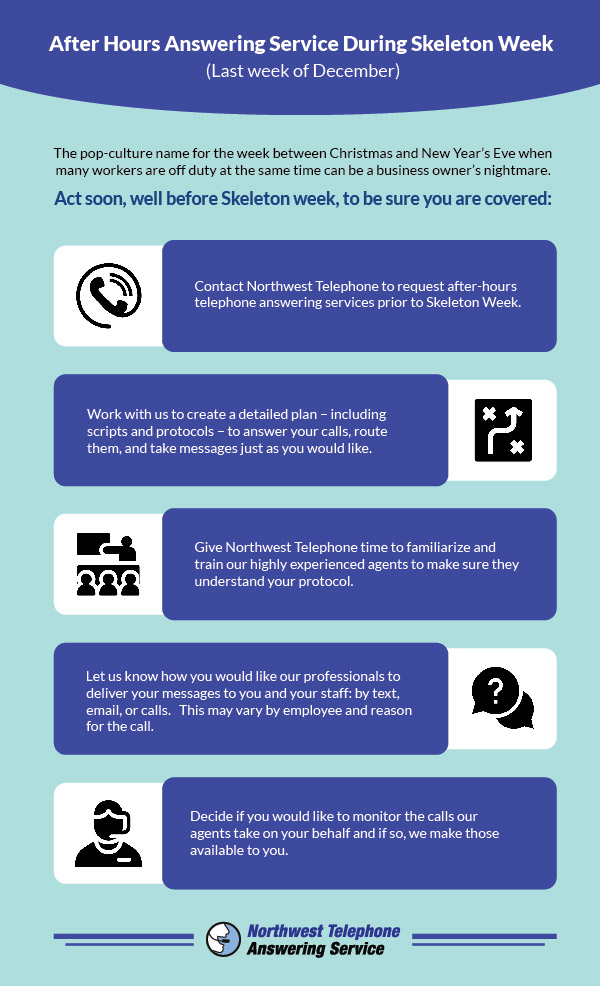 While Skeleton Week isn't during Halloween, it can be just as scary for employers. The pop-culture name for the week between Christmas and New Year's Eve when many workers are off duty at the same time can be a business owner's nightmare. Skeleton Week doesn't have to be frightening if you have the right after-hours telephone answering service coverage.
When you arrange for after-hours telephone answering service coverage with Northwest Telephone Answering Service during Skeleton Week, you will have peace of mind knowing that your customers are in the hands of professionals trained to handle your calls just as you would do yourself.
Here's how it works:
Contact Northwest Telephone to request after-hours telephone answering services prior to Skeleton Week.
With your input, we create a detailed plan – including scripts and protocols – to answer your calls, route them, and take messages just as you would like.
Northwest Telephone trains highly experienced agents consistent with your protocols.
You decide how you would like our professionals to deliver your messages to you and your staff: by text, email, or calls.
You also decide if you would like to monitor the calls our professional agents take on your behalf and if so, we make those available to you.
At Northwest Telephone Answering Service, we have live operators who are closely supervised by trusted site managers that make certain all of the protocols you have set up for phone calls will be followed every time your customers or prospects call.
Our equipment is state-of-the-art and includes digital voice logging so there is always a record of our agents' conversations with your customers.
The right after-hours telephone answering service for Skeleton Week is Northwest Telephone Answering Service. Our friendly and professional live operators and experienced management team go the extra mile to become an extension of your brand when your staff is unavailable. Our plans are flexible and our rates are affordable.
Contact us to find out what we can do for you and your business during Skeleton Week and beyond!