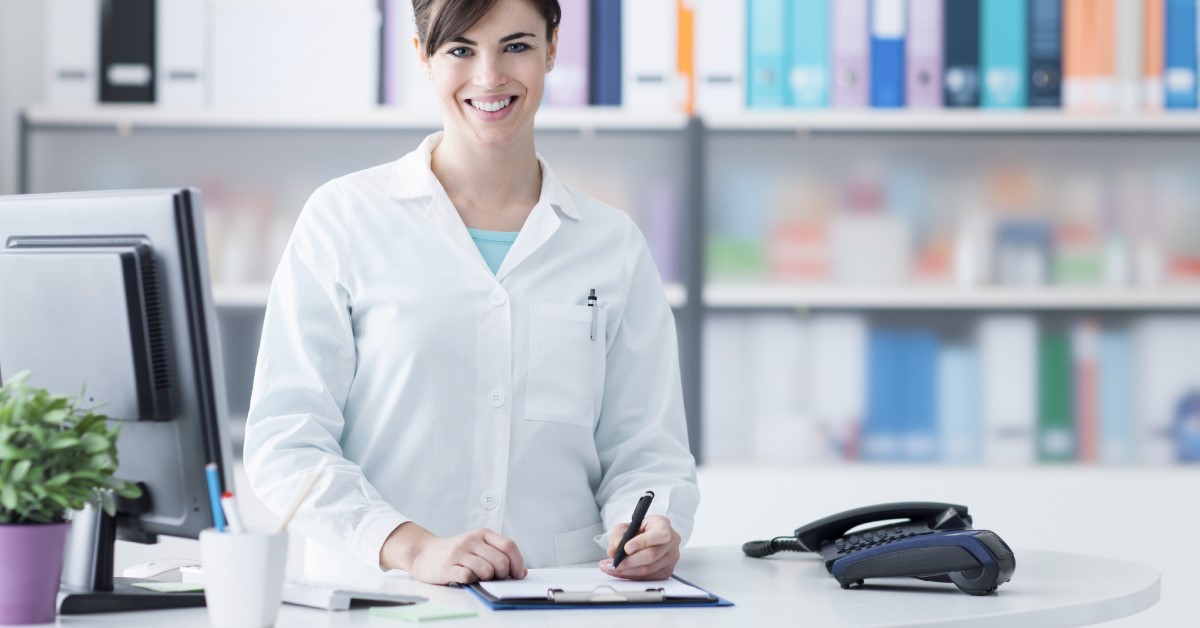 Ask anyone that works in a medical facility and they will tell you that every moment of their day counts. Whether you're a file clerk, a receptionist, or the physician, medical offices handle a great deal of responsibility for their patients and the community. This is the reason why many medical facilities are seeking professional answering services to take on the responsibility of their reception and call services.
Research has shown that if a customer has just one poor experience at a medical establishment they are likely to not return. An overwhelmed staff can end up being dismissive to a patient who is calling to schedule an appointment or ask a general question, which can unintentionally cause the patient to feel that they are not valued. By putting an answering service in place, reception staff can focus on the in-office tasks such as filing and greeting patients.
Benefits of a Medical Answering Service
Book Appointments – Confirm Appointments – Reschedule Appointments
When it comes to a busy doctor's office, what is costlier than patients that don't show up to their appointments? Your staff took the time to talk to the patient, locate an appointment date and time that worked for both of you, and scheduled staff to handle that appointment only to have them not show up! But, in some cases, the patient may have simply forgotten that they had an appointment. A professional answering service can handle booking appointments and confirming them a day or two prior. By confirming appointments, you will minimize the number of no-shows by ensuring your patients are reminded of their appointment with adequate time to reschedule, when necessary.
Never Miss a Call – Even After Hours
Some doctors have to be on call, but giving a patient their personal number can come with its own set of concerns. An OB-GYN is often on call for pregnant patients in the event that they go into labor. An answering service can answer calls from these women, ask simple questions, and then relay that information back to the doctor. The doctor can determine if the patient should visit the hospital or if they are ok to just stay home and then the answering will call the patient back and share the doctor's instructions.
Communication That Provides Comfort
There is probably no profession that has a more personal relationship with their clients than that of a medical doctor. Our doctors know our family history, our greatest concerns, and some of our deepest secrets. When a patient is feeling desperate for answers, they often want to speak to anyone affiliated with their doctor's office. Imagine reaching out to your own doctor to gather information about an upcoming appointment, only to have the phone ring off the hook? If this is during business hours, the office may be too busy to get to the call. If it is after hours, the office may be closed. No matter what the reasoning, that patient's concerns were not addressed.
An answering service can filter calls by asking important questions and answering the basic ones. If a patient is calling to get the office hours, address, or types of insurance that are taken, a professional answering service can offer this information to the caller. This presents a strong sense of professionalism and compassion to the patient by allowing them to reach the doctor's office whenever they need them.
A professional answering service offers both medical facilities and their patients with a valuable service that respects their privacy. Northwest Telephone Answering Service delivers a reliable, trustworthy service that takes both doctor and patient needs very seriously and we are available 24 hours a day, 7 days a week. Contact us to learn more about how Northwest Telephone Answering Service can help your medical office offer quality service to your patients!