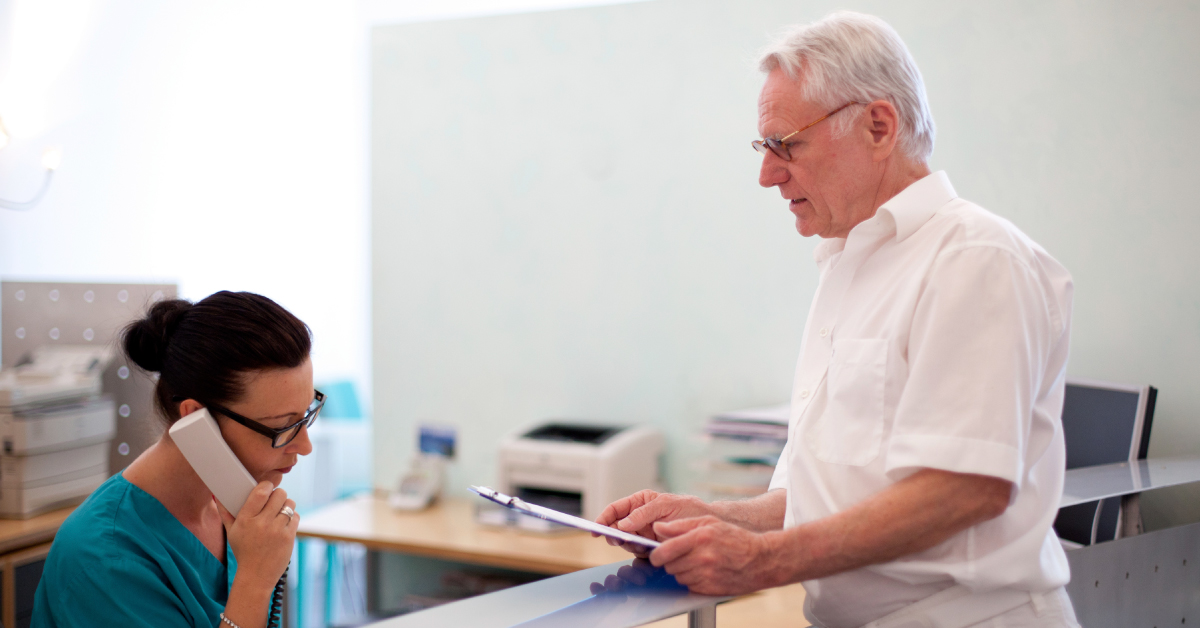 Ask any front desk receptionist at a busy medical office and they will probably tell you, they need help. Phones are ringing, patients are checking in, doctors are requesting files, emails are coming in – it is a very demanding and fast-paced job.
In some cases, the phone calls, faxes and emails a medical facility receives can be time sensitive. Patients may be calling in to discuss lab results with the doctor, schedule an appointment, or follow-up about insurance coverage. Pharmacies call with questions about prescriptions. Doctors, nurses, and hospitals call to verify patient history and give updates. If these calls roll over to voicemail because the office is busy, something can get lost in the shuffle. An answering service can help handle the overflow or after hours calls that a medical facility will inevitably receive.
Some of the most important services we offer for medical practices are detailed below.
Virtual Receptionist – For When You're Away
An auto Receptionist is available 24/7, 365 days a year whether there's rain, sunshine, or a blizzard – someone will answer your calls. This is the first person your patients and everyone else calling your office will speak to and they are fully equipped with everything they might need to help you and your callers whether it's a scanner, computer, or fax machine. Medical facilities can dictate what they would like the Virtual Receptionist to handle – appointment scheduling/cancelling, message taking and delivery, emergency dispatching, etc. and exactly how each of these should be handled. You set forth the protocols that should be followed. Patients will appreciate the immediate and personal attention they receive knowing they can call any time and get the same professional level of service. This will free your office staff up to take care of other aspects of patient care.
Appointment Scheduling – Keeping Everyone on Track
If your medical practice is one where patients scheduling appointments need around-the-clock attention, Northwest can help. It often feels like this is a full-time job in and of itself with all the new callers, rescheduling, and cancelling of appointments but our live representatives are ready to go. They can also assist with confirming and verifying appointments with your patients and through this service, they will make sure your patients have the right address and directions for getting to your office as well as any other details you'd like to remind your patients of.
Online Fax – Send it Digitally
As we move farther into a digital world there is one technology that is appearing less and less – fax. However, fax machines are still very useful in medical offices and unfortunately, it is expensive and when we have to share something confidential with patients they often don't have a fax machine to receive it on. Online fax services allow facilities to send faxes to and from a computer acting like a regular fax machine. And even better, long distance rates do not apply as this is done through toll-free lines. We can also provide fax on demand services in addition to conducting a fax broadcast on your behalf.
Emergency Medical Dispatching – When Timing is Everything
In the healthcare industry, emergencies don't always happen when it is convenient or during regular office hours. When a patient is in the middle of an emergency, getting them the attention they need quickly means everything and our trained operators are prepared to assess and quickly address the situation in order to dispatch to the correct person or place. Northwest Telephone Answering Service will follow the protocols set forth by your office and dispatch the calls according to your specific instructions. Our operators are waiting to help 24/7.
Disaster Recovery – When You Need a Back-up
Because we know that a disaster can hit at any time, we are ready to go. When we join your team, we will work together to develop a plan of action for just about every scenario imaginable. In the middle of a disaster, your in-house staff will be busy handling countless other tasks so we will step in and take over your phone calls. We will be your back-up plan and this means we are ready with back-up generators in case of power failures, we have relationships with off-site call centers where our lines can be forwarded to if our offices incur damage, and we offer T-1, DID, POTS and fiber-optic lines so you never have to worry. We have your back. No matter what.
Northwest Telephone Answering Service offers medical practices a professional and reliable service. At Northwest Telephone Answering Service, our agents answer each call with your company name, and according to your call script will take voicemail, schedule appointments, transfer calls, or provide any other service you may need. For more information about our services and to learn how Northwest Telephone Answering Service can take the stress off you and your staff, contact us today!